HYDRAULIC HOSE : OD=5mm, ID=2.2mm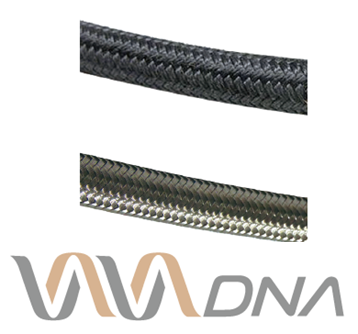 PRIMUS :
Carbon Fiber
Delivering the quality and performance demanded by F1 race teams, now available for your bikes. With 25% increased pressure rating compared to stainless steel it's impossible to get any better out of flexible brake lines. Additionally braided carbon is much lighter and far surpasses Kevlar for both strength and high temperature use.
TRIBUNE :
Stainless Steel
Improved strength, flexibility and durability when compared to standard Kevlar braided lines. Resulting in improved braking performance and feel, especially noticeable on the rear where the impact of hose expansion significantly reduces performance when compared to the front brakes.
1ST CENTURION :
Aluminum
For detailed DNA introduction please see page 31
The back bone of Legion DNA outer casing is manufactured from anodized aluminum making it super light with excellent environmental protection and yet with outstanding aesthetics. However these are not the primary reasons for using it, the reasons are performance, performance, performance!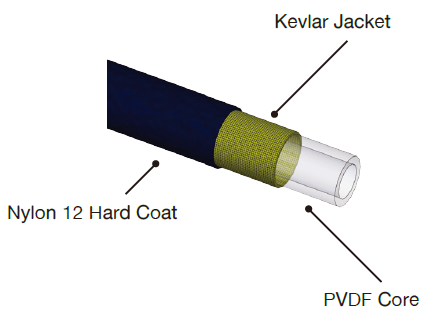 1ST LEGIONARY :
Kevlar
Construction:

PVDF core
Kevlar Braided
Nylon 12 Hard Coat

Advantages:

Low expansion for positive feel
Minimal fluid drag for responsive braking
Excellent Strength to Weight Ratio
Ultra-light weight
High tear resistance
High flexibility
RANGE
Material
Color
Part Number
Single Header
Card Length (3M)
Part Number
Work Shop
Length (30M)
Primus
Carbon Fiber
BLACK
DHY-3-BK-S1
-
Tribune
Stainless Steel
SILVER
DHY-4-SI-S1
-
1ST Centurion
Aluminum
BLACK
DHY-1-BK-S1
-
1ST Centurion
Aluminum
SILVER
DHY-1-SI-S1
-
1ST Legionary
Kevlar
BLACK
DHY-2-BK-S1
DHY-2-BK-W1
Kevlar
WHITE
DHY-2-WH-S1
DHY-2-WH-W1
Kevlar
RED
DHY-2-RD-S1
DHY-2-RD-W1
Kevlar
BLUE
DHY-2-BU-S1
DHY-2-BU-W1
Kevlar
YELLOW
DHY-2-YL-S1
DHY-2-YL-W1