Rim Brake Pads
1.7.1.1OPTIO
: UNIQUE LIGHT WEIGHT ANGLE ADJUSTABLE CARTRIDGE BRAKE
Unique Light Weight Cartridge
Fully Angle Adjustable
Automatic Toe-In alignment, no noise - optional on P2
Compatible with all OEM's
For Part Number See Page 24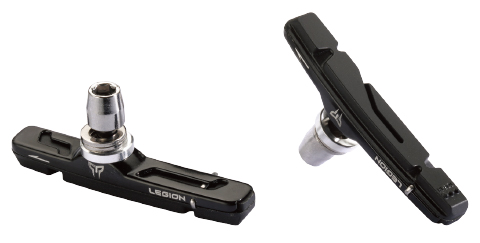 1.7.1.2TURMA
: LIGHT WEIGHT 1PC BRAKE, ANGLE ADJUSTABLE
Unique Light 1pc pad
Fully Angle Adjustable
Automatic Toe-In alignment, no noise - optional on P2
Compatible with all OEM's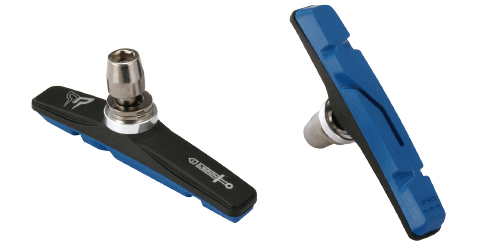 1.7.1.3TURMA
: LIGHT WEIGHT 1PC BRAKE, ANGLE ADJUSTABLE
Light Weight 2pc pad
Angle Adjustable
Automatic Toe-In alignment, no noise - optional on P2
Compatible with all OEM's
For Part Number See Page 24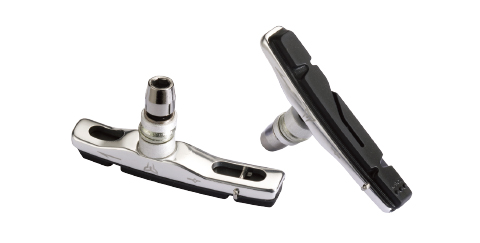 1.7.1.4MILES
: BASIC CARTRIDGE BRAKE
Basic 2pc pad
Angle Adjustable
Automatic Toe-In alignment, no noise - optional on P2
Compatible with all OEM's
For Part Number See Page 24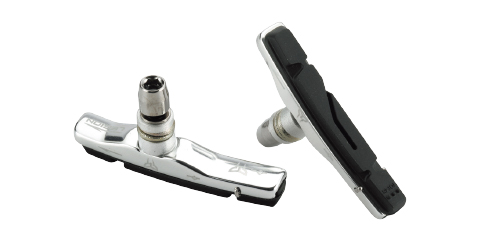 1.7.1.5TIRO
: 1PC BASIC BRAKE
Basic 1pc pad
Angle Adjustable
Automatic Toe-In alignment, no noise - optional on P2
Compatible with all OEM's
PAD LENGTH
P1= Style 1, 70mm long (STD)
P2= Style 2, 70mm long (STD)
P12= Style 1, 60mm long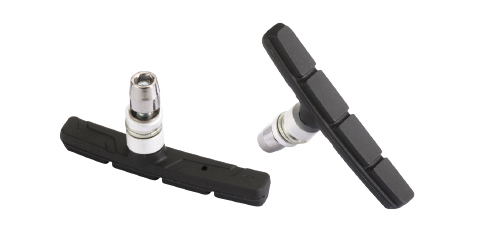 1.7.2.1OPTIO
: UNIQUE LIGHT WEIGHT ANGLE ADJUSTABLE CARTRIDGE BRAKE
Unique Light Weight Cartridge
Fully Angle Adjustable
Oversized Tire Deflector
Automatic Toe-In alignment, no noise - optional on P2
Compatible with all OEM's
Both Shimano and Campagnolo pad options
For Part Number See Page 23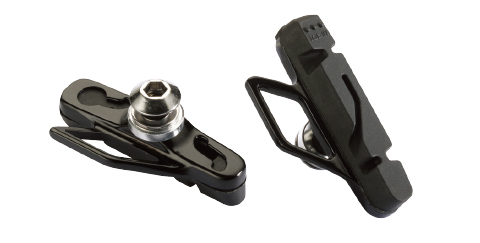 1.7.2.2TURMA
: LIGHT WEIGHT 1PC BRAKE, ANGLE ADJUSTABLE
Unique Light Weight 1 PC Pad
Fully Angle Adjustable
Automatic Toe-In alignment, no noise - optional on P2
Compatible with all OEM's
Outstanding Aesthetics for 1pc option
For Part Number See Page 24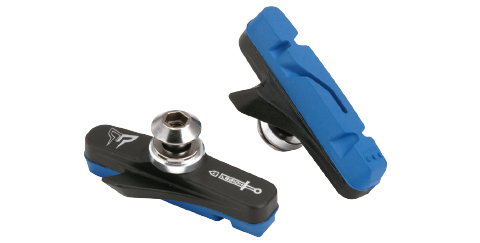 1.7.2.3TURMA
: LIGHT WEIGHT CARTRIDGE BRAKE
Light Weight 2pc pad
Angle Adjustable
Automatic Toe-In alignment, no noise - optional on P2
Compatible with all OEM's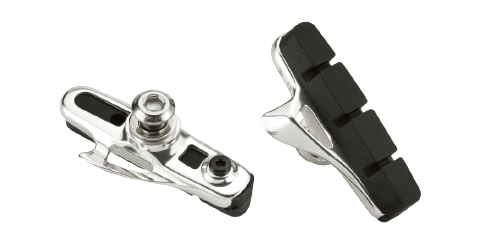 1.7.2.4MILES
: 2PC BASIC CARTRIDGE BRAKE
Basic 2pc pad
Angle Adjustable
Automatic Toe-In alignment, no noise - optional on P2
Compatible with all OEM's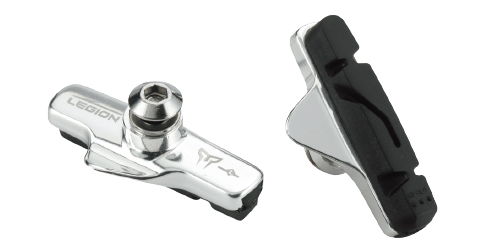 1.7.3 COMPOUND SELECTION
THE LEGION offers a standard range of specific compounds, that offer outstanding performance on all type of rims.
Alloy Compound:
A
This is an outstanding compound that gives excellent performance on all alloy rims, giving market leading performance in both dry/wet conditions.
Carbon Compound:
C
Developing rim specific compounds for selected OEMs THE LEGION has gained the necessary knowledge to allow year on year improvements, our carbon compound excels in wet/dry conditions whilst being rim friendly.
Ceramic Compound:
Z
If you ride ceramic rims then the only compound you'll want to use it the THE LEGION Pro-Ceramic…..its simply the best!
Comp-Trial Compound:
CT
THE LEGION has developed a range of super sticky compounds specifically for trial use where you needs huge amounts of stopping power instantaneously, for this compound pad wear/noise take fourth place for the characteristics profile following performance, performance and performance!
Alloy plus:
AP
For alloy rims or can be used as cross over for carbon
Carbon plus:
CP
Specifically for carbon rims that are prone to thermal distortion on long descents
1.7.4 Standard Rim Range
ROAD: SHIMANO
R2P-RSA-C1S-P1-A-P

R2P-RSA-C2S-P1-A-P

R2P-RSA-C3S-P1-AP-P

RR1-RS-P1-A-P

R2P-RSA-C1S-P2-A-P

R2P-RSA-C2S-P2-A-P

R2P-RSA-C3S-P2-A-P

RR1-RS-P2-A-P
ROAD : CAMPAGNOLO
R2P-RCA-C1S-P1-A-P

R2P-RCA-C2S-P1-A-P

R2P-RCA-C3S-P1-A-P

RR1-RC-P1-AP-P

R2P-RCA-C1S-P2-A-P

R2P-RCA-C2S-P2-A-P

R2P-RCA-C3S-P2-A-P

RR1-RC-P2-A-P
ROAD : UNIVERSAL 1PC
R1P-RUA-P1-A-P

R1P-RUA-P2-AP-P

R1P-RVA-P2-A-P

R1P-RVCA-P2-A-P
MTB : 2PCS
R2P-UV-C1S-P1-A-P

R2P-UV-C1S-P2-A-P

R2P-UV-C2S-P1-A-P

R2P-UV-C2S-P2-A-P

R2P-UCA-C3S-P2-AP-P

R2P-UVA-C3B-P1-AP-P

R2P-RVA-C3S-P1-A-P

R2P-RVA-C3S-P2-A-P

R2P-UCA-C3S-P1-A-P

R2P-UCA-C3S-P2-A-P

R2P-RVCA-C3S-P1-A-P

R2P-RVCA-C3S-P2-AP-P
MTB : 1PCS
R1P-UVA-P2-AP-P

R1P-UCA-P2-AP-P

R1P-UV-P2-A-P

R1P-UC-P2-A-P

R1P-UV-P1-A-P

R1P-UC-P1-A-P

R1PS-UV-P1-A-P

R1PS-UC-P1-A-P

R1PS-UV-P12-A-P

R1PS-UC-P12-A-P

RR1-VS-P1-A-P

RR1-VS-P2-AP-P
Note: The above photos and item numbers are not exhaustive, you can choose other cartridge/pads combinations along with different colors. So if you require something different don't hesitate to contact us with your requirements and we'll advise the correct item code